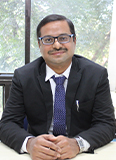 Prof. Sailesh Iyer, CSE/IT Department, Rai School of Engineering, India
Research Area: Computer Vision and Image Processing, Cyber Security, Data Mining and Analytics, Blockchain.
Dr. Sailesh Iyer has a Ph.D. (Computer Science) and currently serving as a Professor and Dean, CSE/IT Department, Rai School ofEngineering, Rai University, Ahmedabad. He has more than 23 years of experience in Academics, Industry and Corporate Training out of which 18 years are in core Academics. He is presently guiding 8 Research Scholars. In addition to Patents, he is involved as an Editor for Book projects with IGI Global (USA), River Publishers (Denmark), Taylor and Francis (UK) and Bentham Science (UAE). A hardcore Academician and Administrator, he has excelled in Corporate Training, Delivered Expert Talk in various AICTE sponsored STTP's, ATAL FDP's, Reputed Universities, Government organized Workshops, Orientation and Refresher Courses organized by HRDC, Gujarat University. Research Contribution include reputed Publications, Track Chair and TPC Member for various reputed International and National Conferences, Reviewer of International Journals like Multimedia Tools and Applications (Springer), Journal of Computer Science (Scopus Indexed), International Journal of Big Data Analytics in Healthcare (IGI Global), Journal of Renewable Energy and Environment and Editor in various Journals. Expert Talk on Research based topics in various Universities and Conferences in addition to guiding Research Scholars as Supervisor. He has also been invited as a Judge for various events, Examiner for Reputed Universities, is a Computer Society of India Lifetime Member and was serving as Managing Committee (MC) Member, CSI Ahmedabad Chapter from 2018-2020.
Prof. Yulin Wang, School of Computer Science, Wuhan University, China
Research Area: Image and video information processing, machine vision, information hiding, information security

Yulin Wang is a full professor in the School of Computer Science, Wuhan University, China. His research interests include image and video processing, digital rights management, information security, intelligent system, e-commerce, IoT, code clone and so on. He got his PhD degree from University of London, UK. He got his master and bachelor degree from Huazhong University of Science and Technology(HUST)and Xi-Dian University respectively, both in China. Before joining the Wuhan University, he has worked in Hi-tech IT industry, including HUAWEI? and national research institute, for more than ten years. He has involved more than 15 national and international research projects. In recently 10 years, Prof. Wang has published 1 book, and 50+ journal and conference papers, including in IEEE TIP. He holds 10 authorized patents. Prof. Wang served as EiC of 2 international journals and reviewer of top IEEE and ACM journals. He also served as reviewer of Innovative talents projects and national research funds, including National High Technology Research and Development Program of China. Prof. Wang was the external PhD advisor of Dublin City University, Ireland during 2008-2010. In recently 10 years, Prof. Wang served as chairman of more than 10 international conferences, and keynote speakers in more than 20 international conferences. Besides UK, he visited US, France,Italy, Portugal,Croatia, Australia, Germany, korea, Ireland,Singapore, Malaysia, Japan, and Hong Kong. In addition, Prof. Wang has been appointed as the deputy director of Hubei provincial science and technology commission (CAPD) since 2014.
Prof. Yongtao Ma, school of Microelectronics, Tianjin University, China
Research Area: Indoor positioning, positioning signal processing, cognitive communication technology
Dr. YongtaoMa, doctoral supervisor, IEEE member. Engaged in research on indoor positioning, intelligent wireless communication, radio frequency identification technology, wireless sensor networks, microwave devices and antennas, and undertook a number of national and provincial and ministerial projects. From December 2013 to June 2014, the Worcester Polytechnic Institute of the United States, a visiting scholar, studied with Professor KAVEH PAHLAVAN (IEEE Fellow), an expert in wireless positioning technology. From December 2016 to December 2017, the visiting scholar of Georgia Institute of Technology studied under the communication signal processing expert Geoffrey Ye Li (IEEE Fellow)
Assoc. Prof. Congduan Li, Sun Yat-sen University, China
Research Area: Information theory and coding, Internet of Vehicles, Artificial Intelligence
Congduan Li (Member, IEEE) received the B.S. degree from the University of Science and Technology Beijing, China, in 2008, the M.S. degree from Northern Arizona University, AZ, USA, in 2011, and the Ph.D. degree from Drexel University, PA, USA, in 2015, respectively, all in Electrical Engineering. From October 2015 to August 2018, he was a Post-Doctoral Research Fellow with the Institute of Network Coding, The Chinese University of Hong Kong and with the Department of Computer Science, City University of Hong Kong. He is currently an Associate Professor with the School of Electronics and Communication Engineering, Sun Yat-sen University, China. His research interests lie in the broad areas related with networks, such as coding, security, wireless, storage, and caching.